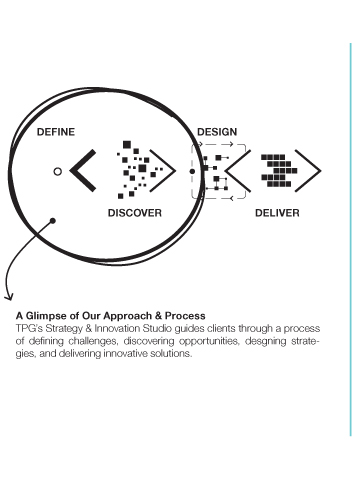 OUR APPROACH
Gaining Insight & Understanding of Each Client's Unique Needs
TPG's Strategy & Innovation Studio unique toolkit & approach to problem solving blends the expertise of a diverse, multi-disciplinary team. Through an introspective look, the Strategy & Innovation Studio provides holistic answers to a variety of different issues presented by clients. We recognize that every organization has its own unique culture, issues, goals, and challenges and yet many common workplace issues are universal. There is no "one size fits all" solution and we are committed to discovering the right solution for each of our clients.
Services-
Visioning: Our Visioning sessions bring to the surface latent patterns, preferences, behaviors, and beliefs that influence the organization's culture. We help clients observe these elements alongside existing real estate and space utilization. This leads to the discovery of opportunities to align business goals with real estate as a way to strategically enhance company culture.
Scenario Planning: TPG's Strategy & Innovation Studio encourages clients to think of design strategy beyond the aesthetics and structure of space. We engage is spatial, behavioral, and cognitive scenario planning, to help clients gain a holistic understanding of what drives their organization now in order to innovate for the future.
Delivering Strategy & Managing Change: When it comes to delivering a real estate design strategy, it is people – employees, customers, or end users - who activate the design and bring the space to life. TPG's Strategy & Innovation Studio collaborates with clients to engage their employees, customers, and/or end users accordingly, to grow shared interest and build a sense of command in their new space. Innovation and advantage can be achieved by implementing a robust strategy and by managing the change over time.