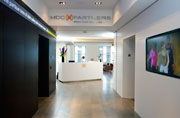 MDC Partners moves into Flagship Office at 745 Fifth Ave
TPG designs tech intensive office for Creative Agency
Citybizlist New York
MDC Partner's office, designed by TPG, was recently featured in an article by Citybizlist, a source for New York real estate news.
The international creative marketing agency sought a design that communicated the MDC Partner brand and provided a functional and dynamic environment. Luc Massaux, Design Director, describes the overall theme of the space as "a marriage between the past and the future."
As the Landlord Architect for Paramount Group, TPG is responsible for various other projects in this historic building.