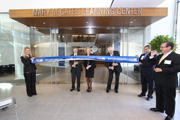 TPG Designs Mary M. Gates Learning Center for United Way Worldwide
TPG, United Way and the Gates Family Dedicate New Learning Center
TPG Marketing Department
On the morning of Wednesday, October 13th, Jim Phillips, Project Principal and Ivan Rosa, Project Manager, attended the dedication ceremony of the new Mary M. Gates Learning Center at United Way Worldwide (UWW) in Alexandria, Virginia. Bill Gates, Sr. (husband of the late Mary Gates), Bill Gates, III (son) and Libby Gates Armintrout (daughter), were there as well as representatives of other major contributors and individual donors. The $12 million dollar facility was made possible in large part by a generous gift from the Bill & Melinda Gates foundation in honor of Mrs. Gates, a life-long United Way patron and advocate.
UWW resides in a 120,000 square foot building located on the Potomac River. Built in 1982 and wholly owned by UWW, the building had not undergone any significant décor or infrastructure updates. The project included the creation of an expanded, double-height building entry, with east and west facades constructed of structural glass, joining the Learning Center and the office tower. The building entry encompassed a new feature stair, linking walkways on the east and west sides of the second floor, better circulation and a dramatic, light-filled reception space with views of the Potomac.
The state-of-art Center, which will serve the local community in addition to members of the global United Way network, features webcasting and high-def video conferencing. These were employed during the morning's events to host an interactive session with United Ways in Mumbai, San Francisco and Vaal Region, South Africa, focused on income and financial stability.
TPG is thrilled to be associated with such an important project; one that has the real potential to improve lives and bring positive impact to local and global communities.