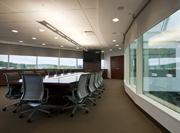 First Long Island LEED Office Interior Completed by TPG Architecture
Leviton's headquarters achieves LEED certification for Commercial Interiors
TPG Marketing
Leviton Manufacturing Company (Leviton), client of TPG Architecture, is the first Long Island office interior project to achieve LEED® certification for Commercial Interiors (Certified level) by the U.S. Green Building Council (USGBC).
The client assumed occupancy of its new world headquarters in May 2009. TPG submitted the design and construction review to the USGBC in November 2009. Last week, almost a year after Leviton moved in, LEED® certification was officially announced.
Founded in 1906 at the dawn of the electrical age, Leviton has grown to become the largest privately held manufacturer of wiring devices in North America with operations in nearly 100 countries. Driven by a vision and dedication to innovation, Leviton's CEO, Donald J. Hendler, decided that to embrace a 21st century way of working, a shift in both its physical environment and operating infrastructure were required.
TPG provided full architectural services and served as LEED® administrator for the relocation of Leviton's headquarters to 201 N. Service Road in Melville - an existing, 140,000 square foot building with 4 floors plus a lower level. Leviton occupies the entire building. The project incorporates low emitting materials such as adhesives, paints and carpets to create a healthy indoor air quality. 20% of the materials used in the project are from recycled materials and sources, and water consumption is reduced by 30% through the incorporation of water saving fixtures and devices. Electrical energy consumption is also reduced through the installation of Leviton's own lighting management systems.
The positive results are proven publicly in the great accomplishment of achieving the first certification in Long Island, and on the ground in the workplace. Employees report feeling energized and proud of their workspace, and enjoy an increased opportunity to collaborate.