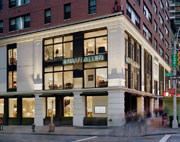 Ethan Allen's New Flagship Store Wins Honorable Mention
TPG Project Awarded by SADI 2009
Retail Traffic Magazine
The new Ethan Allen flagship store in New York City received an Honorable Mention by the Superior Achievement in Design & Imagining (SADI) Awards, in conjunction with Retail Traffic Magazine, in the category of Renovated Retail Store, 5,000 square feet or more.
Ethan Allen set out to create a new urban prototype, anchored in the legacy of its brand. The Flagship Design Center is located at the corner of Third Avenue and 60th street in Manhattan. The 1960's building in which it is housed required comprehensive upgrades including the complete redesign and reconstruction of the 4,000 square foot façade. The result is a reinterpretation of the neo-classical, "cast iron" aesthetic of 19th century commercial buildings, with a crisp and modern finish.
The design takes advantage of the prominent corner location by maximizing show windows. The ground floor windows are a mix of dedicated display and views into the store. The second and third floor windows show the design center, connecting feature stair and feature room settings.
The opening of the store also coincided with the relaunch of the Ethan Allen brand logo and mark, which was incorporated in stainless steel, pin mounted lettering above the main entry, and in smaller flanks along the façade. In all, the project has transformed a prominent city corner and helped revitalize this stretch of Third Avenue.