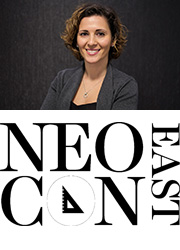 TPG's Director of Strategy & Innovation Rachel Starobinsky to Speak at NeoCon East
TPG's Director of Strategy & Innovation Rachel Starobinsky to Speak at NeoCon East on November 10th
TPG Marketing & Communications
TPG's Director of Strategy & Innovation, Rachel Starobinsky, will be speaking at this year's NeoCon East, taking place in Philadelphia, November 9-10, 2016.
Presenting "The Rise of Great Expectations: Technology's Continual Impact on the Workplace," Rachel will discuss the effects of technology in the workplace, and how to ensure optimal worker engagement and productivity.
This one-hour session will take place on November 10th at 1 pm.
Click here to purchase tickets and click here to learn more about NeoCon East.