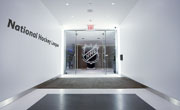 National Hockey League Moves In
Construction Wrapping Up on New Hockey League Headquarters
TPG Architecture
The National Hockey League has just moved into its new headquarters at 1185 Avenue of the Americas. The highly branded office features captivating environmental graphic designs and mixed-media installations that communicate the culture of the organization and the tradition of the sport.
Massive, color coded environmental graphics line the elevator lobby of each of the 5 floors. At the 15TH floor, visitor reception, the graphics lead to an 8-foot shield just inside the glass panel doors, next to the reception desk. At the end of the conference area, near the entry top the boardroom is a STANLEY CUP Shrine, that consists of a player tribute wall and a glass sculpture, resembling ice. The conference center, comprised of multiple glass front meeting rooms, includes an "ice bar" and "interactive gaming area."
Graphic installations and applications on the remaining floors further explore recurring themes of the National Hockey League. Unique areas including the Hockey Stick Wall, which divides the newsroom from the open office, the Jersey Wall which leads into the large employee lunchroom, and the Media Wall also found on the 15th floor are additional examples of how NHL branded paraphernalia and technology were interpreted to create the total design concept.