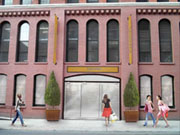 TPG's Plans for Chelsea Market Featured in the New York Post
Anthony Deen Talks About New Designs for Chelsea Market Project
New York Post
Senior Associate and Studio Design Director Anthony Deen recently discussed plans for Chelsea Market's new exterior façades with the New York Post. The building, located on Ninth Avenue between 15TH and 16TH Streets is undergoing a major transformation. In a special feature titled, "The Market Force," Deen explains the value of TPG's design work.
TPG created a master plan for Chelsea Market that includes new windows for retail storefronts and added ramped entrances along 15TH Street. Additional renovation work to several interior retail spaces in the building is also scheduled to begin in 2008.
Open the attachment to view the article.