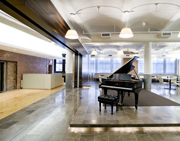 TPG in BusinessWeek
EMI Music Publishing Featured in BusinessWeek Online
BusinessWeek
TPG's recently completed EMI Music Publishing project was featured in the Innovation section of BusinessWeek Online as part of a special report on Office Design.
EMI Music Publishing's new headquarters, located at Chelsea Market, opened its doors last month. The 65,000 square foot space features a predominantly open plan, a performance lounge, and acoustically private spaces called the "listening room" and "music spa."
In homage to the history and character of the building, certain industrial characteristics– exposed brick, vaulted terra cotta ceiling, maple flooring and metal clad columns – were integrated in the design. In contrast, the furniture and furnishings infuse high design and classic modern style.