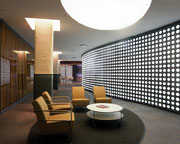 IIDA NY Lester Dundes Winner
Moët Hennessy USA
International Interior Design Association New York Chapter
At the 4th annual IIDA NY Lester Dundes Award Ceremony, held last night at the Haworth showroom in New York, TPG was honored for our work on Moët Hennessy's new headquarters.
TPG's Moët Hennessy project was selected as winner of the 2007 IIDA NY Lester Dundes Interior Design Competition in the category of Commercial over 50,000 SF.
TPG designed the headquarters, located in Manhattan's Meatpacking District, to reflect the iconic luxury status of their brands.
A 56,000 square foot floor plate provided the foundation for flexibility and the possibility for openness. The design incorporates sleek and modern finishes and also maintains some of the raw, original features. The building's exposed brick walls and vaulted terracotta ceiling invoke its warehouse past. Glossy whites and an abundance of curves contrast the industrial character of the space.
The IIDA NY judges were impressed by the plan, the intimacy, and the way in which TPG achieved Moët's objective of reflecting their brands.