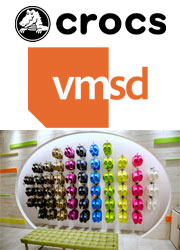 Crocs US Flagship Featured in December Issue of VMSD
Footwear Innovator Crocs Opens A Colorful Flagship on 34th Street
VMSD
The Crocs US Flagship at 34th Street was featured in the December 2014 issue of VMSD. The shoe retailer has been making waves with plastic boat shoes. Crocs, which is based in Niwot, Colorado worked with TPG to turn their 13,500 square foot space into a bold, dynamic and Crocs-centric New York location.
The new space, which is located in one of the most prominent shopping streets in New York, features a double-height entry with a Statue of Liberty created with over 2,000 colorful Crocs.
Click to read the article here.