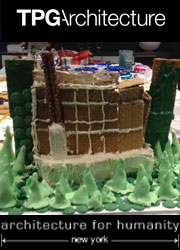 TPG Participates In Architecture for Humanity's Holiday Gingerbread Competition
Architecture for Humanity New York Hosts Holiday Party
TPG Marketing & Communications
This past Tuesday, TPG participated in Architecture for Humanity New York's Holiday Party which featured a gingerbread competition at the Steelcase Showroom.
Competing teams were asked to create gingerbread houses based on famous architecture. TPG's team recreated Douglas House by Richard Meier.
Congratulations to the winning team!
Click to see photos here.