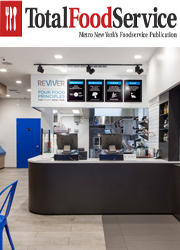 ReViVer Featured In November 2014 Issue of Total Food Service
ReViVer Brings Balanced Nutrition To Its Midtown Manhattan Restaurant
Total Food Service
TPG-designed ReViVer was featured in this month's Total Food Service magazine.
With a perfectly balanced, palindrome name, ReViVer has become known as the healthy lifestyle restaurant in midtown. The restaurant is based on Four Food Principles; balanced, nutritious, clean and pure.
TPG's scope of work included not only the interior design, but also the logo, graphics, promotional material, uniforms and packaging.
Click to read the article here: Total Food Service.