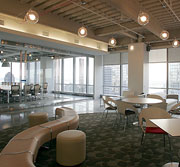 TPG in NY Times
Mansueto Ventures featured in Square Feet
New York Times
Recently completed Mansueto Ventures, located in 7 World Trade Center, was featured in Square Feet, found in the business section of the Sunday New York Times May 13th.
Mansueto Ventures LLC, the publishers of Inc. and Fast Company magazines, recently moved into their new TPG-designed offices. TPG's design takes full advantage of the column-free interior, as well as the floor-to-ceiling windows which offer a stunning panorama of lower Manhattan.
Seven World Trade Center is NYC's first high-rise office building to be certified by the U.S. Green Building Council's Leadership in Energy & Environmental Design (LEED) rating system and received a "gold" rating. The building's environmental design features state-of-the-art ultra-clear exterior glass technology, high-efficiency air filtration, energy and water conservation technologies, and 15,000 square feet of open park space.