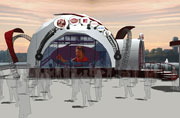 TPG's Winning "Band in a Bubble" Design Hosts Rock Band and Reality Show
2,000-square-foot bubble structure going up on Manhattan's Pier 54
TPG HQ
TPG Architecture won a design competition for Dr Pepper's Band in a Bubble event to be held later this spring. The Bubble will be the epicenter of a 20 day music event sponsored by Cadbury-Schweppes, MTV, Wal-Mart and KFC, among others.
The pop rock band Cartel will record their next album while dwelling full-time for almost a month in the giant Bubble.
The structure will be erected on Pier 54 in lower Manhattan and will function as the backdrop for an MTV reality show and around-the-clock webcast.
When developing the concept of the Bubble, the designers at TPG were inspired by the way many small bubbles gang up or clump together in a freshly opened bottle of Dr Pepper.
The massive 2,000-square-foot Bubble is made of 55,000 pounds of steel truss with quarter-inch thick fiberglass. The sphere will be framed by three arch trusses lit to give the orb a glowing effect.
The living area, located at the front of the Bubble, is equipped with couches for jam sessions and informal practices. The lounge area is dedicated to relaxing and will motivate interaction among band members. The kitchen is equipped with a custom-made island lit by drop pendant lights, while a more formal dining area allows for spacious eating around a table.
The sleeping bubble, elevated 9' off the ground, is connected to the ground floor by spiral stairs and hung in place by airplane hanger cables.
The front window is a semicircle with breakaway glass that will blow out on the last day of the event - the "breakout" concert day for the band.
View the Band in a Bubble website