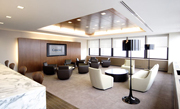 TPG Completes New Offices for Top Law Firm
Gibbons moves into progressive new space in Newark
TPG Corporate Studio
Gibbons P.C. (Gibbons), one of the top law firms in the New York, New Jersey and Philadelphia metropolitan areas, has moved into their new TPG-designed offices in One Gateway Center in Newark, New Jersey.
Gibbons specializes in providing business litigation, transactional and counseling services. The firm ranked among the nation's top 200 in The National Law Journal, and was recognized as one of the top 100 firms for diversity by Multi-Cultural Law Magazine. In addition, Gibbons was listed as one of the best Places to Work in NJ by NJBIZ Magazine.
TPG assisted Gibbons with a massive relocation project from One Riverfront Plaza to One Gateway Center in Newark, NJ. The new space comprises just over 100,000 rentable square feet across six floors. The overall design is high-end and progressive while being minimal and clean to reflect Gibbons' level of professionalism.