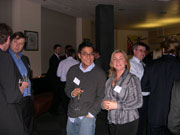 TPG International Celebrates 10 Year Anniversary
London Anniversary Event
TPG International, Ltd.
TPG International celebrated its tenth year of operation in the UK with a cocktail reception held at one of London's premier showrooms this month. Our international design services now extend from our London office and New York Headquarters to throughout continental Europe, Asia and Latin America. Our expanding multinational client portfolio today represents core and shell architecture, interior fit-out and retail design and implementation.
We thank our global clients, vendors and consultants who joined us in celebrating ten tremendous years of international architectural services.
Congratulations!