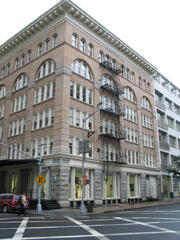 TPG works on Cadence in New York
World-Class Cycling and Multi-sport Center comes to New York
Press Release
Cadence Cycling & Multisport Centers, the nation's only comprehensive center for personalized cycling and multisport equipment and training programs for athletes at all levels, will open in New York City. Cadence's newest site will be ideally located close to the West Side Highway bike path, a spot that is always flooded with professional and amateur cyclists.
TPG is handling the interior design and architecture of the new 11,000 square foot space at 174 Hudson Street, in the heart of TriBeCa. The design will take full advantage of the meticulously restored turn-of-the century building's large windows and exposed brick walls.
When the new location opens, Cadence will offer New York's world-class and avid amateur athletes on-site physiological testing, biomechanical services, health and weight loss consultations and indoor training. The second floor of the two story center will house Cadence's testing and training facilities, many unique to the New York location, including an Endless Pool, weight training equipment, Vasa swim trainers, and shower and locker facilities.
The store is slated to open in April 2007.