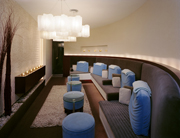 AIA Archi Award Winner
Elizabeth Arden Red Door Spa in Providence, Rhode Island
AIA Long Island Chapter
TPG Long Island received two Archi Awards at the 2006 celebration of the Long Island chapter of the American Institute of Architects, held at the Tam O'Shanter Country Club in Brookville, New York.
The project: Elizabeth Arden Red Door Spa located in the Biltmore Hotel in Providence, Rhode Island. The awards: Best in Category, Mercantile/Retail under $2 million; and a Special Award in Furniture and Furnishing for excellence in non-residential design.
TPG Architecture has provided architectural design services and implemented existing prototypes for more than twenty five Elizabeth Arden Red Door Spa facilities throughout the U.S. to date. The Red Door Spas offer customers an indulgent retreat within a trend setting environment, where serenity and luxury are of primary importance.
Since 1965, the Long Island Chapter of the American Institute of Architects has celebrated outstanding architectural achievement through the annual Archi Awards Program. The purpose of the Archi Awards Program is to provide professional and public recognition of architectural projects of design excellence. The awards recognize projects conceived of and built on Long Island as well as projects design by Long Island architects, built or planned to be built elsewhere.