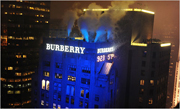 Burberry Lights Up New York Skyline
TPG client becomes one of only six grand fathered signage locations in NYC
New York Times
Three giant signs for Burberry, the British luxury goods brand, were illuminated on May 28, 2009, marking a small but notable intervention in the Manhattan skyline.
The signs, 5 feet high and 50 feet wide, adorn the eastern, northern and southern exposures of 444 Madison Avenue, where Burberry has leased four floors with 68,000 square feet for its United States headquarters.
The skyscraper, between 49th and 50th Streets, previously had signs for New York magazine, which had space in the building from 1996 until 2007. City zoning rules now bar giant illuminated rooftop skyscraper signs, but the ones at 444 Madison Avenue are permitted under a grandfather clause.