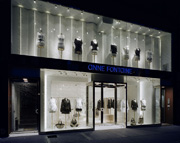 TPG Completes Anne Fontaine's New York Flagship
4,500 Square Foot Boutique Opens on Madison Avenue
TPG's Retail Studio
TPG recently completed the New York Flagship for Anne Fontaine located within a Landmark District on Madison Avenue. The store was designed by Andrée Putman in France and executed on a fast track schedule in New York by TPG.
Faced with a challenging space, TPG collaborated with the client and design team to create a layout that guides customers along a curved path flanked by displays and beaded curtains. Rather than compartmentalize, the curtains create translucent divisions, preserving the light, open feeling of the store.
The shop features two VIP rooms for private shopping and is home to a clothing line developed exclusively for the Flagship, located in a dedicated "Black Room" at the back of the store.