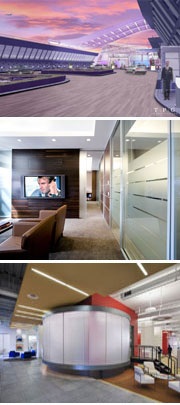 TPG Projects in the Media
Spring Roundup
TPG HQ
BRITISH AIRWAYS The British Airways project has been covered online on both the Contract and GreenbuildingsNYC websites. The web article in Contract titled, TPG Architecture to Lead British Airways Redevelopment at JFK, includes project renderings of the exterior. The story on GreenbuildingsNYC.com titled, British Airways to Launch LEED at JFK with Terminal 7 Rehab, also references the Citigroup Long Island City office project.
EMI MUSIC PUBLISHING Luc Massaux is featured in the cover story about EMI Music Publishing in the Italian publication, OFX.
DENTSU AMERICA The new office, designed by TPG, was recently covered in both Real Estate Weekly and Commercial Property News.