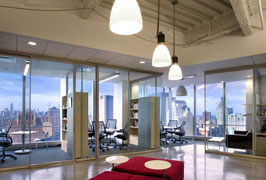 TPG Architecture in Interior Design Magazine
Best Office Issue Features Mansueto Ventures Project
Interior Design Magazine
TPG's project, Mansueto Ventures, is featured in the Best Office issue of Interior Design magazine. The article titled, Nothing Ventured, Nothing Gained, begins on page 338 with a two- page spread of the corner conference area.
In the story, comments from Jim Phillips and Luc Massaux reveal information about the design intent and concept for the new Mansueto headquarters.
In the same issue on page 44, Jim and Luc are featured in a Q&A column titled, Headliners.
To learn more about the project, read the attached press release.