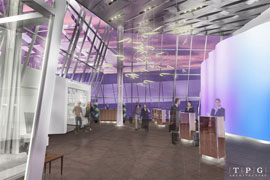 TPG Supports BA Redevelopment Project
TPG Attends Press Event at JFK Airport
TPG Marketing
TPG Architecture was onsite at JFK Airport on Wednesday, May 25, 2008, to support British Airways' redevelopment project at Terminal 7. During an afternoon press conference, TPG accompanied British Airways executives as well as members of the business and executive travel press on a media tour of their first-class lounges and retail spaces.
Significant improvements to the exterior canopy and British Airways' first-class drive-up and check-in areas were designed by TPG's Architecture and Retail Studios. Designs for the terminal's interior spaces, created by Davis & Baron, will also be implemented by TPG.
Designed for British Airways in 1970 by Boudova + Associates, Terminal 7 is a structure rooted in the architectural prominence of travel hubs of that era. TPG's contribution will be the second expansion of the terminal, part of a major refurbishment characterized by dramatic design improvements to the retail concourse, check-in areas and passenger lounges.
The British Airways Terminal 7 is an excellent example of a luxury Retail and Hospitality design concept fulfilled on behalf of a major corporate client. In addition to the design and implementation of the new Premium Passenger areas, TPG Architecture's scope of work involves the completion of design development and construction documents for the Concorde Lounge, the Club Lounge, Check-in and Café. The project is slated for completion in summer 2009.
Project renderings from TPG were featured on separate segments of Fox 5 New York's Good Day New York and 11 O'clock Live programs.
To learn more about the project, open the attached press release.