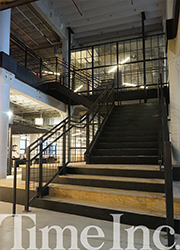 TPG Client Time Inc. Moves to Industry City
TPG Client Time Inc. moves to Building One in Sunset Park's Commercial Complex, Industry City
Brooklyn Magazine
TPG worked closely with Time Inc. on their move into a new 57,000 SF space in Industry City Their new office will feature a showroom for The Drive a new website devoted to cars and car culture.
The project consists of three floors which are viewed as a working lab for all of the occupants. Due to the accelerated schedule, every meeting became an open, interactive collaborative design session with the client and consultant team.
A new metal and wood interconnecting stair links the two workplace floors. Open ceiling and dropped metal mesh feature ceilings were used throughout the space. Whenever possible, TPG designers chose finishes that were produced locally by Brooklyn fabricators. Maintaining the raw nature of the space was also important to Time Inc.
As Joe Ripp, Time Inc.'s CEO explained, the new space will be "an ideal space for building new products, reimagining content creation and developing advertising solutions."
For the full story, check out "Changes: Inside Time Inc.'s New Sunset Park Offices" featured in Brooklyn Magazine.