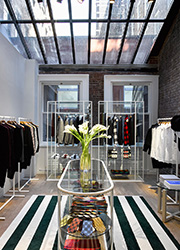 Tomorrowland's US Flagship SoHo Store Featured in VMSD
Tomorrowland's US Flagship SoHo Store Featured in VMSD December 2015
VMSD
TPG Client Tomorrowland's U.S. Flagship store in SoHo has been featured in the December 2015 issue of VMSD.
The 3,500 square foot store features natural white oak and antique bronze furniture, while the floorplan highlights three different shopping experiences; home accessories, men's and women's apparel and men's suits.
Read the article here.