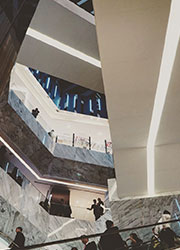 El Palacio De Hierro Polanco Opens in Mexico City
El Palacio De Hierro Polanco, Luxury Department Store Opens in Mexico City
TPG Marketing & Communications
TPG is excited to have partnered with El Palacio de Hierro on the design of one of the finest luxury department stores in the world. This 646,000 sf four level store is located in the Polanco neighborhood of Mexico City.
With its inspiration being nothing less than Mexico City itself, TPG designed the dramatic ground floor and atriums including luxury shops, accessories, cosmetics and jewelry, and the elegant 1st floor Women's boutiques.
Also on the first floor, TPG created a Children's department like no other, featuring an illuminated rollercoaster on the ceiling.
Click to read the article here.