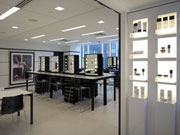 Renovations to Chanel Boutique Building Complete
TPG Shares Design Details for New Training Facility
TPG Marketing
TPG recently completed interior renovations and restack work to the Chanel Boutique building, located at 15 E 57TH Street. The mixed-use space houses Chanel's first Fragrance & Beaute training facility in the United States.
In the training area, TPG's design concept models Chanel's clean and classic aesthetic. Glossy black cabinetry and custom black and white furniture replicate the simple packaging for Chanel make-up, skincare and fragrance products. The practical area resembles their popular in-store retail destinations. The palette is chic and uncomplicated. Creative lighting installations and innovative A/V treatments enhance the classroom style setting.
Transformations to over nine floors include offices, a video conferencing room and multipurpose space. The training facility, located on the top floor, is a resource for all fragrance and beauty retail employees.
15 E 57th Street is a legendary Chanel location. The street level boutique is an ever popular retail destination. TPG's design work to the upper floors provides equally chic accommodations for Chanel employees.