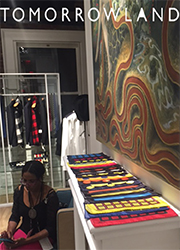 Tomorrowland Opened their First US Location and NYC Flagship
Tomorrowland Opened During NY Fashion Week at 476 Broome Street
TPG Marketing
TPG is excited to announce that the first ever US location and NYC Flagship is now open for Tomorrowland.
Tomorrowland is a Japan based free standing Men and Women's clothing store. TPG was the co-designer on the project in collaboration with Tomorrowland's design team.
TPG covered the Grand Opening Event on September 16, 2015 click here for more on the event.