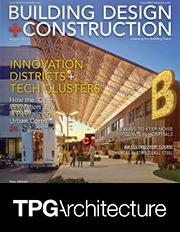 TPG Ranked #28 on BD+C Giants 300 & #16 on BD+C's Top Retail Sector Architecture Firms
TPG Ranked #28 on BD+C Giants 300 Report & #16 on BD+C's Top Retail Sector Architecture Firms
Building Design & Construction
TPG is excited to announce that we have been ranked #28 on Building Design + Construction's Giants 300 Report, which features the Top 106 Architecture Firms in the United States. Click here to find the entire list.
Additionally, TPG has been ranked #16 on BD+C's Top Retail Sector Architecture Firms. BD+C's ranking includes the nation's largest retail sector for design and construction firms. The list can be found here.
Building Design + Construction reaches over 72,000 readers, who are involved in non-residential building, including design firms, building firms and building owner/developer and management firms.