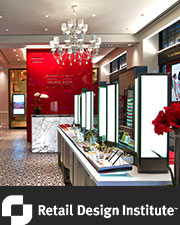 The Red Door Is Featured In RDI's Review: Premier Issue
The Red Door Featured In RDI's Review: Premier Issue & RDI Store of the Year No. 21 Hardcover Book
Retail Design Institute
The Red Door recently won the Lifestyle, Health & Wellbeing category in Retail Design Institute's 44th International Store Design Competition.
As a result, The Red Door was featured in RDI's Review: Premier Issue, which features highlights from the design competition. A digital version of RDI's Review is available here. The Red Door is highlighted on page 178.
The Red Door will also be showcased in RDI's Stores of the Year No. 21, a hardcover book that will be sold all over the world in bookstores and on the internet in December 2015.
Retail Design Institute was founded in 1961 to be a collaborative community for the retail industry's creative professionals. Since its inception, RDI's membership has expanded to architects, various designers, planners, students, strategists, etc.