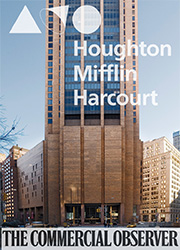 TPG Client Houghton Mifflin Harcourt Expands at 3 Park Avenue to 90,000 SF
TPG Client is expanding to 3 Park Avenue
Commercial Observer and Globe St
We are excited to announce that we are working with Houghton Mifflin Harcourt on their upcoming expansion. They are relocating from 215 Park Avenue South to their new location at 3 Park Avenue.
The TPG Team is spearheading the project for the educational and trade publisher company's new space.
Click the following to see more about the lease.