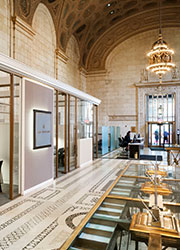 JPMorgan Chase Brooklyn Trust Location Posted on A.R.E.'s Insights Center
JPMorgan Chase Brooklyn Trust Featured in A.R.E.'s Insights Center
A.R.E.
JP Morgan Chase's Brooklyn Trust location has been posted online as part of A.R.E. Retail Environment's Insights Center.
The landmarked bank which is located in Brooklyn, NY is a historic location that features a selection of materials that were utilized to highlight the existing renaissance design. Completed in January of 2014, the location also includes custom steel "L" and "T" brackets and custom office solutions, to maintain the history of the space.
Click here to view the Insights Center.