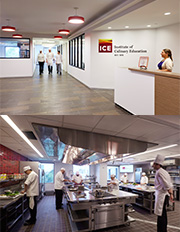 Institute of Culinary Education Featured in a Range of Media Outlets
Featured in New York Times, Food & Wine and Many More
TPG Marketing & Communications Department
TPG-designed Institute of Culinary Education was featured in various publications and news segments since its opening. The recently completed, 80,000 SF facility features a mixture of classrooms, a student lounge and 12 new kitchens, including a mixology lab, pastry kitchens and a chocolate lab. Located at 225 Liberty Street, the design highlights the amazing views of the Hudson River. TPG is currently completing phase 2 of the project, which includes office space as well as a hydroponic garden, which will provide fresh produce for the culinary school.
Read more about ICE by clicking on the following links:
Or click on the following links to watch our design in action:
Eyewitness News WABC-TV New York
For more articles written on ICE's new space, click here.