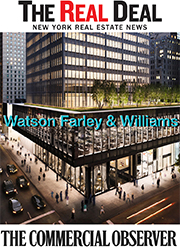 Watson Farley & Williams grabs 30K sf at 250 West 55th
TPG Client relocates from 1133 Avenue of the Americas
Commercial Observer and The Real Deal
We are excited to announce that we will be working with Watson Farley & Williams on their new location. They are relocating 1133 Avenue of the Americas to 30,000 square feet at 250 West 55th Street. The new space is ready for law firm tenants.
The TPG team guided this international law firm's new NYC office design. It celebrates transparency and collaboration with wide expanses of glass fronts that frame dynamic city and river views. It will have a state of the art conference and reception area to serve as the office's focal point. A rich yet restrained palette of white oak, natural stone and polished stainless steel is paired with crisp architectural detailing and sleek furniture to create a series of compelling spaces.
The move in is slated for the beginning of 2016.