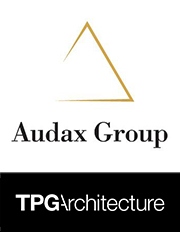 Audax Group Moves into New Office
19,275 SF at 320 Park Avenue
TPG Marketing & Communications Department
Audax Group recently moved into its new office at 320 Park Avenue. A previous client, Audax required a relocation of its New York City office and desired a new design that is unique and highly stylized to promote the theme of transparency and collaboration.
Glass office fronts are used all throughout the new space. A coffee bar credenza extends into one of the conference rooms, blurring the boundaries between client space and work space, inviting Audax's clients to be a part of the work environment. However, the design is also mindful of privacy in the open work areas. Workstations are arranged with site lines in mind, providing additional privacy while keeping to the same footprint as the benching system previous used by Audax. The offices feature sit/stand desks and all employees are offered sit/stand desk accessories. The design also afforded more collaboration areas.
Audax also wanted a café where employees can step away from their work space and take a break. TPG designed a space with a relaxing atmosphere, enhanced by a wall mural designed by TPG Branding & Graphics.