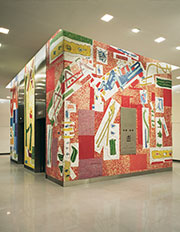 SL Green Lobby at 711 Third Avenue Featured in New York Times for Iconic Hans Hoffman Mural
Lobby at 711 Third Avenue Featured in New York Times for Iconic Hans Hoffman Mural
The New York Times
TPG was fortunate to work with SL Green on the lobby of 711 Third Avenue. Inside the lobby is an iconic Hans Hofmann mural created in 1955, which is only one of two completed in Manhattan.
With a new Hofmann exhibit open in Connecticut, The New York Times recently featured the 711 Third Avenue mural as a piece of inspiration and design.
Click here to read the article.