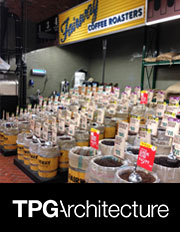 TPG's Signage & Environmental Graphics at Fairway Market Wins HOW Design Award
TPG's Signage & Environmental Graphics at Fairway Market in Lake Grove, NY Wins HOW Design Award
HOW Design Awards
We are excited to announce that TPG has won a 2015 International HOW Design Award for the Signage and Environmental Graphics at Fairway Market in Lake Grove, NY.
TPG developed stories for each of Fairway Market's departments and generated signage that makes customers feel as though they are visiting a seaside fish market, a coffee plantation, a friendly neighborhood butcher or a local family-owned bakery.
Click here to view the project.