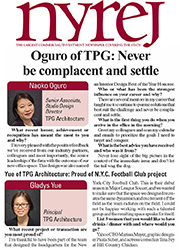 TPG Women Featured in NYREJ Real Estate Spotlight
TPG's Gladys Yue and Naoko Oguro are featured in the NYREJ Women's Real Estate Spotlight
New York Real Estate Journal
Gladys Yue and Naoko Oguro are featured for their latest achievements and honors, both proud of the overall teams accomplishments they have spearheaded at TPG.
Naoko discusses the new office project at TPG Architecture and how priorities and balance play a role in success.
Gladys is delighted with the new design of the New York Football Club headquarters as they debuted in the MLS this season.
Click here to see the spotlight on Gladys in the NYREJ WIRE
Click here to see the spotlight on Naoko in the NYREJ WIRE