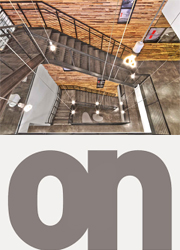 Havas is featured in Onoffice Magazine
TPG Creates a New York Vibe for Havas Worldwide
TPG Marketing & Communications
TPG designed Havas' new workspace at 200 Hudson Street, which brought together the advertising and communication firm's various subsidiary agencies in one location for the first time. The project brief was to create a distinct 'New York brand' to sit under the Havas Worldwide umbrella. To achieve this, the team focused on a clean, timeless aesthetic, incorporating contemporary furniture and lighting to add color and character, while maintaining flexibility in the design.
Click here to check out the Havas space in onoffice Magazine.
Onoffice Magazine is the UK's leading publication for the commercial architecture and design community, featuring innovative workplace, hotel, education and civic projects from around the world. Informative, original, provocative and stylish, onoffice has been hugely popular in the UK since its launch in 2006. From cutting-edge office interior projects and architecture, through technology and products to industry issues, onoffice takes designers, architects, facilities managers, specifiers and end users on a journey through the cosmos of commercial space, delivering piercing insight, fearless criticism and the gamut of essential knowledge that makes perfect sense of the world of work. With more than a modicum of much needed wit, onoffice is the "don't miss" for the workplace.