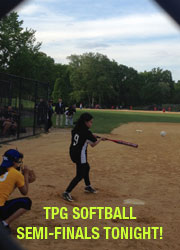 TPG Softball Semi-Finals Tonight at Central Park!
Join TPG's Softball Team Tonight at Great Lawn #3 in Central Park
TPG Marketing & Communications
Join TPG in supporting our softball team tonight as they compete in the semi-finals against RAMSA.
Tonight's double header is taking place on Great Lawn 3 at 5:30pm sharp! Second game to begin immediately after. Let's play ball!
Directions available here.