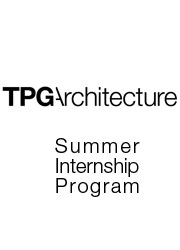 TPG Architecture Summer Internship Program 2014
Adding Value to Our Internship Program through Mentorship
TPG Marketing & Communications
TPG recently concluded its Summer Internship Program. We aimed to add value to our internship program through mentorship, streamlining the TPG integration process by guiding and assisting our interns through the transition from student to intern to professional.
For the past 9 weeks, our interns were offered the Mentor Program, which includes lectures and workshops (the crowd favorite was the Rendering, InDesign & SketchUp workshop hosted by Meghan), a guest speaker series, a summer portfolio project, resume and portfolio reviews, field trips and a weekly NYC Happenings email, a curated list of design and cultural events going on around the city.
Thank you to all the interns for their hard work and we hope that they have enjoyed our Summer Internship Program as much as we did hosting it!