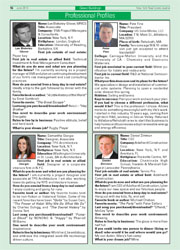 TPG LEED Professional Featured in the NYREJ
Project Designer Samantha Giorgio Showcased in Green Buildings Feature
New York Real Estate Journal
TPG Designer Samantha Giorgio was featured in this month's New York Real Estate Journal Green Buildings Feature for her LEED certified work done for projects like the new TPG Office at 31 Penn Plaza.
Samantha spearheaded the process of obtaining LEED Silver Certification for TPG. Making changes and specific design choices like recycled concrete flooring, recycled rugs, and dimming lights for optimal daylight harvesting all made a difference in TPG's LEED certification.
She brings a practical and professional outlook to every project and we are excited that she has the NYREJ spotlight for Green Building.
New York Real Estate Journal