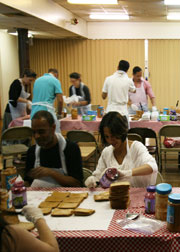 TPG Holds Annual PB&J Sandwich Day In Support of St. Francis Food Pantries & Shelters
Annual PB&J Day Took Place on Tuesday, June 24th
TPG Marketing & Communications
This past Tuesday, we held our annual Peanut Butter and Jelly Sandwich Day in support of St. Francis Food Pantries and Shelters. St. Francis' goal is to alleviate the physical and emotional hunger of the poor and needy in a dignified and supported manner.
This year, thirty two people participated in the event which produced our highest amount of peanut butter and jelly sandwiches ever! We beat our goal by 100, producing 2,600 sandwiches.
Sandwiches made at the event are handed out the next day to help feed the working poor in the New York area.
Thank you to everyone who helped out for making this day a great success!