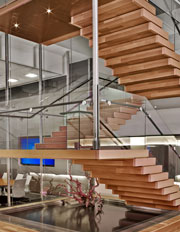 CMG's New York Office Achieves LEED Gold Certification
CMG's New York Office at 909 Third Avenue Has Received LEED Gold Status
TPG Marketing & Communications
TPG is excited to announce that CMG's New York office at 909 Third Avenue has achieved LEED Gold status. The company selected a Vornado building which had already achieved LEED Silver.
Every sustainable component was taken into account, including accessibility to public transportation. CMG also managed to stay under 25% allowable watts per square footage, which further helped to achieve the LEED Gold status.
Open panels throughout the office also allow for natural light, and sensors are utilized to minimize lighting when not in use. Additionally, the use of reclaimed wood, low VOC paint, carpet and energy star appliances also contributed to the LEED Gold certification. Congratulations!