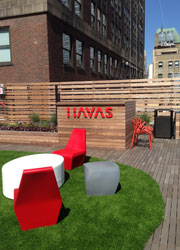 Havas Health Rooftop Terrace Now Open
Havas Health at 200 Madison Officially Opens Rooftop Terrace
TPG Marketing & Communications
The Havas Health rooftop terrace is now open! As part of the new Havas Health office at 200 Madison, which was completed earlier this year, the main roof terrace has officially opened.
Located on the 10th floor, the rooftop connects through a HD stair lift, which is accessible through the 9th floor courtyard. The roof is supported by the steel stub up from existing columns.
The terrace is outfitted with IPE stadium seating, outdoor televisions with AV connection, a cable guard rail and even a bar!