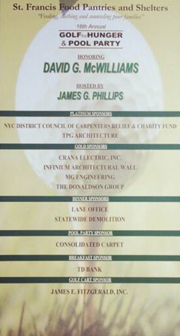 TPG Founder Hosts St. Francis Food Pantries and Shelters' Golf Outing
16th Annual Golf for Hunger & Pool Party Took Place on Monday, June 2nd
TPG Marketing & Communications
TPG founder Jim Phillips was honored to once again host St. Francis Food Pantries and Shelters' Annual Golf for Hunger & Pool Party. The 16th Annual outing was held on Monday, June 2nd at Bonnie Briar Country Club in Larchmont, NY.
Proceeds from the outing go to St. Francis Food Pantries & Shelters, a network of food and services programs for the poor that provide a wide range of services to feed, clothe, counsel, and alleviate physical and emotional hunger in a dignified and supportive manner.
Congratulations to this year's honoree David G. McWilliams, CEO of JRM Construction Management!
Click here for a preview of photos from the event.