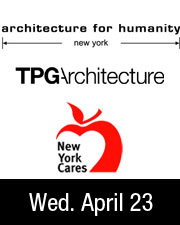 TPG to Host Architecture for Humanity New York Design Charrette
TPG to Host Architecture for Humanity New York Design Charrette on April 23, 2014
TPG Marketing & Communications
Architecture for Humanity will be hosting a two hour design charrette at TPG on Wednesday, April 23. The charrette will be focused on the construction of benches, where new bench designs will be explored for indoor and outdoor use. These benches are meant to be build by New York Cares volunteers in gardens, schools and community centers around New York City.
To sign up for the design charrette, please click here.
Architecture for Humanity New York is the local chapter of Architecture for Humanity. The program, which started in 1999, provides a platform for socially responsible design across New York's five boroughs. Over 40,000 architects and professional design services are involved in the program, and it's clients include community groups, aid organizations, housing developers, government agencies, corporate divisions and foundations.