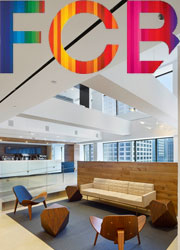 FCB Chicago Featured In Chicago Business Journal
FCB Chicago's New Office at John Hancock Featured In Chicago Business Journal
Chicago Business Journal
TPG's client FCB (formerly known as Draft FCB Chicago) was featured in the The Chicago Business Journal. The agency recently moved into their new five floor space at the iconic John Hancock Center.
In a movement away from privatized offices, FCB's new open plan work environment focuses on generating more discussion and collaboration, while also "reflecting all that is most cutting edge in the realm of an ad agency office design." Click here to read the article.
FCB is a global advertising agency, which focuses on creative, marketing and branding. With over 8,000 employees, FCB headquarters are centered in New York and Chicago.