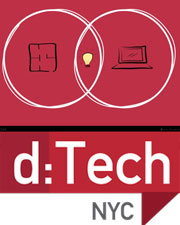 TPG Directors Host Workplace Seminar at Cornell Tech NYC
Cognition in the Workplace Seminar part of d:Tech NYC
TPG Marketing & Communications
This past week as part of d:Tech NYC TPG's Directors of Strategy and Innovation, Kelly Bacon and Rachel Starobinsky hosted a seminar on Cognition in Today's Workplace: Striking the Balance Between Work, Tech and How We Think.
The seminar, which was held at Cornell Tech's NYC campus, focuses on the changing nature of work and the workplace of the future – how new technologies are increasing productivity, encouraging collaboration, and enabling the workforce of the 21st century. The majority of the dialogue has been focused on both the physical and virtual environments. The presentation takes this a step further and looks at the cognitive environment – how our newly developed technology consumption behaviors are affecting our cognitive processes and how the physical environment can be designed to enhance our collective intellectual capacity.
To view the presentation on Slideshare – click here.
D:Tech NYC seminars focus on bringing together design and human computer interaction in New York, as the program organizes free seminars to the research and practitioners in New York.